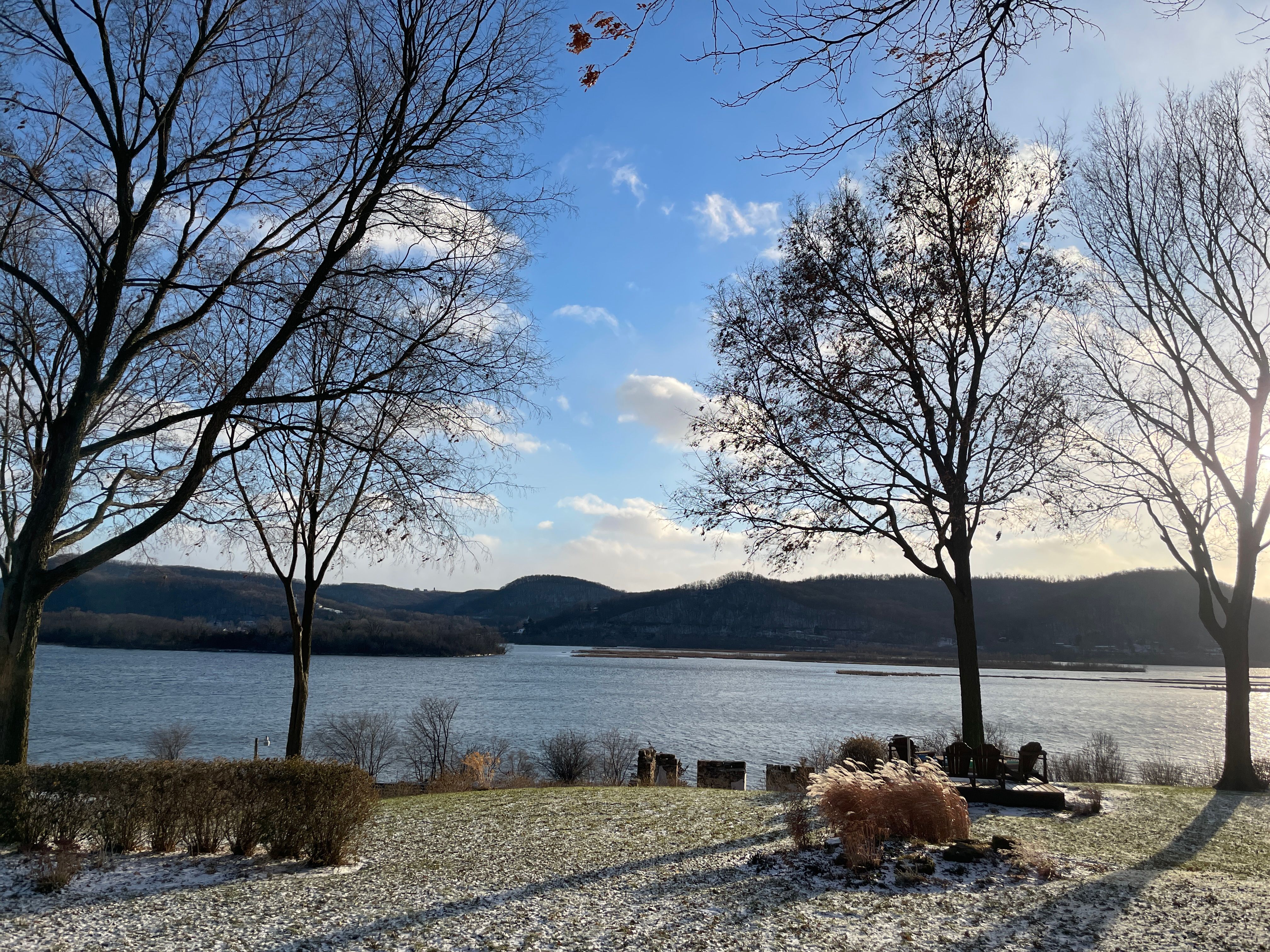 Hello Folks, Happy December wherever you are. Winter has made itself at home here along the Mississippi River in Trempealeau, WI. Jo and I bundled up for our usual 2 mile morning walk before breakfast this morning. Sweat pants, wind pants, hoodie, neck warmer, stocking caps, wool socks, fleece vest, light down jacket and a final layer windbreaker. We had a glorious walk down in the Lakes area. There was a stiff 20mph breeze but the woods around the lakes make it bearable. We always come home glad we did it and, as soon as we come in the door at home, I break into my breakfast time duties. All followed up with a cribbage game with Jo. Then it's time for a few emails and this newsletter.
In this newsletter:  Gigs, Rafting trips, and FB Live.
 Gigs:
This Friday Dec 2nd I will be performing solo in. Fort Atkinson WI at the groovy Café Carpe. 8pm start. Come early for a delightful, delicious, affordable home made meal cooked by the owner himself, Bill Camplin.  Located at 18 S Water St. in Fort Atkinson.
Call for tickets at 920-563-9391 or email info@cafecarpe.com or visit website www.cafecarpe.com
Facebook Live Thur Dec 22nd at 6pm Central time (7pm Eastern, 5pm Mountain time and 4pm Pacific  time for all my good friends on the west coast). I'll be joined by my long time partner Dan Sebranek. And there will be some sweet harmonies from the sound board from my daughter Elisi Smith-Waller who along with her husband, Tim, mix sounds and lights for us.
Go to my Facebook page https://www.facebook.com/johnsmithmusic  We'll be sharing songs from my newest CD Backroads as well as a few Holiday songs. Put us up on your big screen and share happy hour with us. Slainte'.
Jan 13th & 14th 7:30pm two nights at the Pump House in LaCrosse, WI. 119 King St. I'll be joined by Dan Sebranek, Larry Dalton, and Elisi Smith-Waller. This is an annual gig for us and always warms our hearts to see so many familiar faces of friends and fans. Contact 608-785-1434 or visit www.thepumphouse.org to reserve seats.
Feb 3  House concert in Kerrville TX 4:30pm  call 847-312-3194
Feb 5.  Cantina Sound Workshop House Concerts - 601 Madrone Canyon Dr., Johnson City, TX   https://cantinasound.com/reservations.html or rmjdees@gmail.com 
 Feb 10 7:30pm, Rockport TX Events center.  For info and tickets call 361-729-5519 or info@rockportartcenter.com  106 S Austin St
 Feb 11 7:30pm House Concert in Corpus Christi, TX 512-415-9894 
Feb 25 7pm at Winona House Concerts with Dan Sebranek  more info at Winona House Concerts
Middle Fork Expeditions Raft Trip
I just found out that we have 5 openings for my July 31 - Aug 5 raft trip on the Middle Fork of the Salmon River in Idaho. You can find out more info on my webpage  https://johnsmithmusic.com/rafting-trip  You can sign up here www.idahorivers.com
I want to thank all of you who sent cards and encouraging emails this past summer regarding my health challenges.  I have found that a big part of my healing is in getting out there and sharing my songs. A reminder that I am always open to playing a house concert. Feel free to send me a note if you want to discuss it further.
I hope to see some of you at some of these gigs or on Facebook Live, on a rafting trip next summer or on some Ireland tours.  Wishing you all a peaceful holiday season.  See you down the line.
Love,
John