Johnsmith is one of those artists so often under-recognized – he possesses a genius that cannot be denied, ignored, or overlooked. For the past forty-plus years, Johnsmith has been sharing his music all across America and abroad. He has become a favorite at festivals, clubs, and house concerts alike. In addition to being a Kerrville New Folk Winner, Johnsmith has released nine solo CDs to rave reviews, leads musical tours to Ireland, leads Idaho rafting trips, teaches songwriting, and has served as a staff songwriter in Nashville.
With his faded jeans, his twinkly blue eyes, and his infectious smile, John immediately connects with audiences. You get the sense of a man who loves his life, his family and friends, and who loves nothing more than sharing that love in song and stories all across this land.
---
---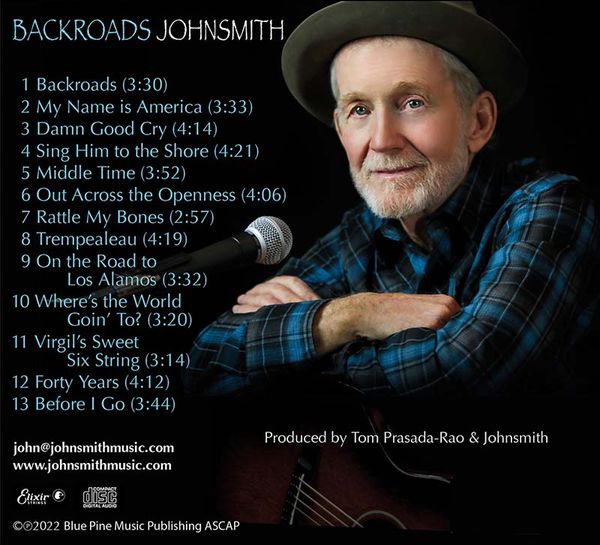 ---
" Johnsmith's new album, Backroads, is a gorgeous blend of the quietly powerful and heartfelt songs I've come to expect from John with some new sounds as well, including the country styles on Virgil's Sweet Six String and Rattle My Bones and the very effective use of choral backing on songs such as My Name is America and Where's The World Going to. There are moving love songs to his wife of decades and to his small home town on the banks of the Mississippi in Wisconsin, and quietly contemplative reflections on life in Out Across the Openness and Before I Go. The title track, Backroads, is a quintessential Johnsmith song, that ranks among his finest. Needless to say, I'll be playing this one a LOT on Trail Mix on Kansas Public Radio."
Bob McWilliams, Host of Trail Mix on Kansas Public Radio. 
---
"Johnsmith's new collection "Backroads" speaks to where we all are right now. More than that, the melodies and messages in the songs will endure and deepen in meaning as time goes on. "My Name is America" would have been as relevant during the Great Depression or the Civil Rights movement as it is at this moment. The graceful singing, arrangements and instrumentation are what we have come to expect from Johnsmith, one of our most thoughtful songcrafters."
Marilyn Rea Beyer | Host, The Midnight Special
Chicago
---
 "I feel like every time one of your songs gets heard a little healing happens to the world. And we need all of that we can get, that's for sure."  
Buddy Mondlock
Previous events
contact Steve @ quantumarts.net or 970-412-6731