July 31 - Aug 5, 2024 Middle Fork Salmon River rafting trip 
with Middle Fork River Expeditions
Come join me in one of the most untouched wild places in the lower 48. The trip begins from Stanley, ID. Drop dead beautiful western scenery at its best. Folks can drive, or fly into Boise ID and hire a shuttle or car pool in a car rental.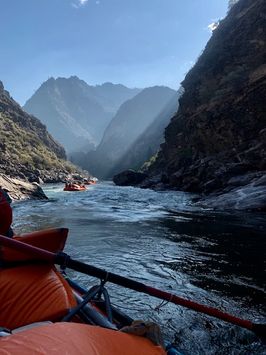 Middle Fork River Expeditions, a licensed and bonded outfitter in the state of Idaho, has run safe and well-managed river trips on the Middle Fork and Main Stem of the Salmon since 1953. Check out this video about one of my Middle Fork trips and see info for signing up http://www.idahorivers.com/ 
I can bring a total of 23 of us along with 6 staff river guides. The guides were totally amazing, they played and sang way cool songs, cooked outstanding food, and were all masters of getting us down the river. They take five rafts, one for paddling, one for trout fishing folk, three for floating and 4 yellow inflatable kayak (duckies). Everyone gets a chance to ride all of the boats.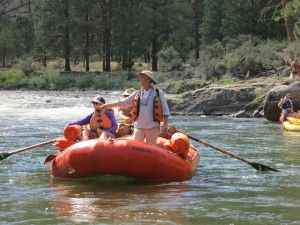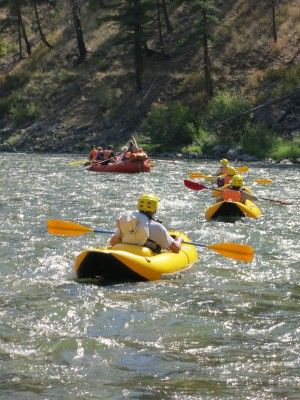 The pacing of the week is perfect. We don't start most mornings on the river until around 10am. The staff is up around 6am making a fire and putting on the coffee. Plenty of time for a morning hike or extra fishing . We stopped each day for a very leisurely lunch. In the afternoon we arrive most days at our camp by 4 or 5pm latest. And of course, after dinner  we will have fireside song circle.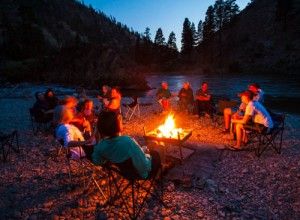 Cost is $3099 per person for Middle Fork. Additional costs are tips for the guides and if water levels are low a $130 charge to be flown to a remote put-in spot.
The rafting company provides a tent, cozy sleeping bag, pillow, and dry bags for your clothes and a smaller dry bag for a day bag (change of clothes) along with rain gear. They provide all the food you can eat.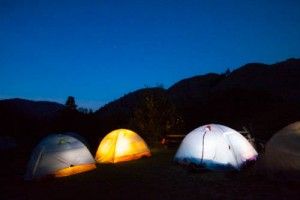 You must have a good level of fitness and balance as you will be getting in and out of the raft while it is bobbing and you will be stepping onto wet rocks that are slippery. There are also some medium level hiking outings.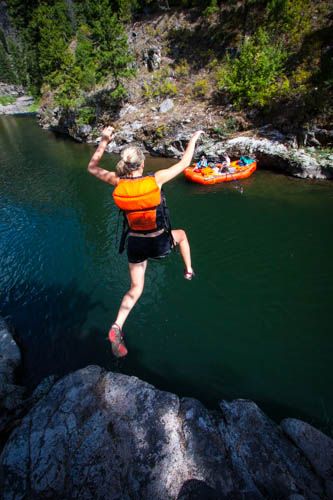 "Our 6 days on the magnificent Middle Fork of the Salmon with Johnsmith and Middle Fork River Expeditions (MFRE) was possibly the trip of a lifetime. The majestic canyon, untouched wilderness and the gin clear river, provided the perfect backdrop for an unforgettable outdoor adventure. The Middle Fork provided us with challenging whitewater, crystal clear pools, relaxing hot springs, Indian petroglyphs, fantastic fishing and scenery beyond belief.  MFRE provided us with professional, knowledgable and fun guides, great equipment, expert instruction and healthy gourmet meals. Johnsmith provided us with memorable music and helped us bootstrap a real inspiring community from 23 strangers. Folks, it doesn't get any better than this. In 6 short timeless days we managed to capture lightning in a bottle. Barbara and I could not recommend the trip more. Hats off to everyone involved."
~Randy & Barbara Brown
I'm sure it will be a magical unforgettable week sharing the magic of the river, songs around a fire, and loads of laughter, and friendship.  Send me an email if you are interested. The reservation system has changed, so here's the instructions for making a reservation:
Go to www.idahorivers.com
 

Look across the top menu and click on DATES & PRICES
Select  BOOK ONLINE
Scroll down until you see RESERVE A TRIP
In the DATE box enter 07/31/2024
In the middle box that says TRIP TYPE choose "Middle Fork Salmon"
In the right box, enter your NUMBER OF GUESTS
Below, you should see:
 

July 31st – August 5th, 2024  6 DAYS  - JOHNSMITH MUSIC TRIP with prices (if you see "inquire")
Click in blue box on the right that says RESERVE - # OPENINGS
A new box opens below

Fill in the correct number of adults you are registering
Fill in the correct number of children you are registering
Choose yes / no for donating $6.00 to the Redside Foundation which provides mental health services for the guides.
Click NEXT
A new page will open
 

Complete your personal information, transaction details, and payment method
Check that you agree to APPLICABLE TERMS
Click on COMPLETE PURCHASE